第106回日本解剖学会総会・全国学術集会 インターネットセッション 演題番号 I-014

鶏胚脛部皮膚では孵卵9日から鱗形成が開始し,鱗の伸長と並行して15日から17日にかけて角質化がおこる。我々はこの分化,形態形成過程にホメオボックス遺伝子が関与していると考え, degenerate primerを用いて、HB9を含む14個のホメオボックス遺伝子を13日胚脛部皮膚よりクローニングしてきた。HB9は非クラスタータイプのホメオボックス遺伝子であり、リンパ組織や脊髄での発生,分化過程における発現が報告されているが皮膚については報告されていない。今回、この皮膚の分化,形態形成過程におけるホメオボックス遺伝子HB9の発現について調べるために、in situ hybridization法にて検討した。さらにHB9蛋白の発現を免疫組織化学的に検討した。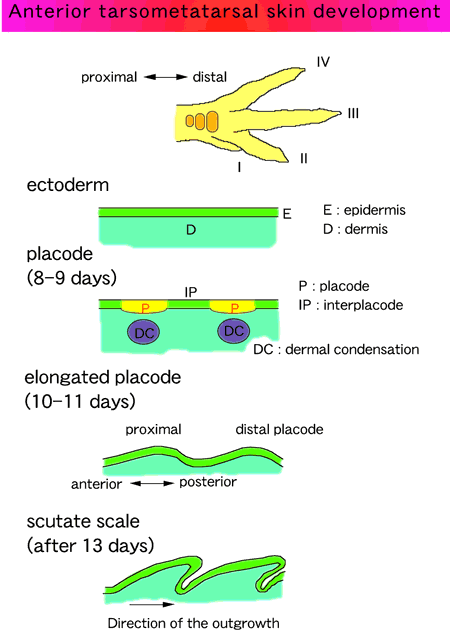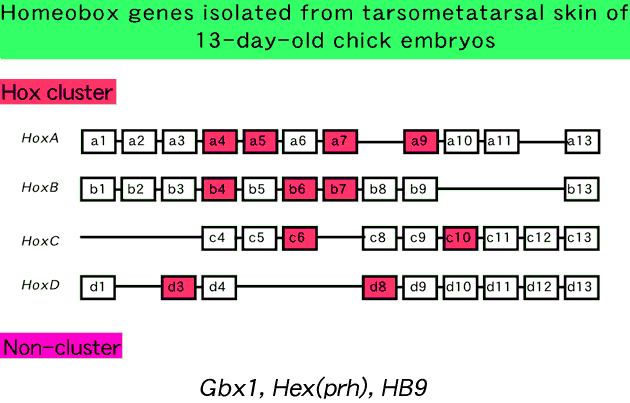 In situ hybridization

Immunohistochemistry
9日胚ではプラコードの表皮基底細胞並びに真皮の細胞にホメオボックス遺伝子HB9の発現が認められた(Fig. 1C)。12〜15日にかけて鱗成長に伴い表側鱗では表皮基底細胞層,表皮中間層にHB9の発現が認められたのに対し,内側鱗では表皮基底層でのみ弱いHB9の発現が認められた(Fig. 1F〜H)。また真皮の細胞にもHB9の発現が認められた。16日以降になると角化の開始に伴ってHB9発現が減少した(Fig. 1I)。さらにHB9蛋白は細胞質並びに核内にPatch状に局在することが観察された(Fig. 2)。内側鱗表皮に比べて表側鱗表皮は細胞増殖が活発であること,さらに16日以降は表皮基底細胞の増殖能が低下することから,HB9は細胞増殖に関与することが推測される。
Fig. 1 Chronological expression of HB9 during anterior tarsometatarsal skin development. Longitudinal section of anterior tarsometatarsal skin from 6.5- to 17-day-old embryos. Direction of outgrowth, anterior-posterior axis is from the left to the right.
B: Basal layer, D: dermis, E: epidermis, In: intermediate layer, Ip: interplacode, Is: inner scale face, K: keratinized layer, LD: lower dermis, Os: outer scale face, P: periderm, PI: placode, Ps: peridermal and subperidermal layers. Bar, 50 μm.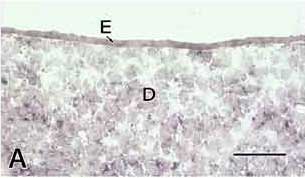 (A) 6.5 days (stage 30). No signal is seen in the epidermis.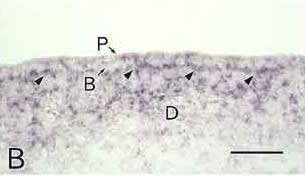 (B) 7.5-8 days (stage 33). Preplacode stage. There is no placode yet, but weak signals are seen in epidermal basal cells and dermal cells. Arrowheads show boundary between epidermis and dermis.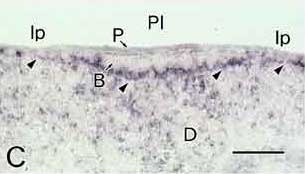 (C) 8-9 days (stage 35). Symmetrical placode stage. Strong expression of the HB9 gene is seen in the epidermal basal cells of placode and dermal cells under the placode; but expression is weak in the interplacode. Arrowheads show boundary between epidermis and dermis.



(D) 10 days (stage 36). Asymmetrical placode stage. There is a recognizable difference in signal intensity between the dermal cells of the placodes and interplacodes. Arrows and arrowheads show interplacodes and placodes, respectively.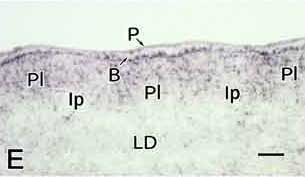 (E) Higher magnification of (D). Distal placode region is elongated next to the interplacode. Note that the signals are hardly seen in lower dermis.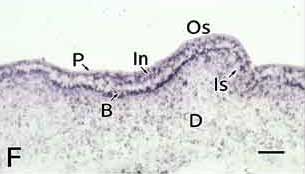 (F) 12 days (stage 38). Morphological difference between outer and inner scale faces is now conspicuously recognizable. The intermediate layer has now been added to the basal layer; and the signal extends to this layer, but is not seen in the peridermal layer. Intense signals in dermal cells under the placode are still evident.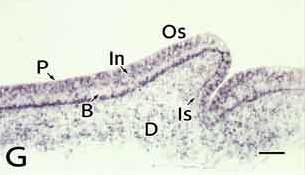 (G) 13 days (stage 39). The maximum mitotic activity of epidermal basal cells is found. Strong signals are observed in basal and intermediate epidermal layers of the outer scale face.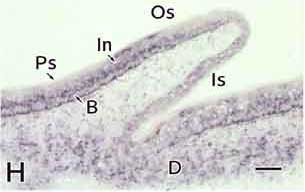 (H) 15 days (stage 41). After the maximum mitotic activity in the epidermis. Although being restricted to the outer scale face, the signal in the epidermis has begun to decrease. An additional subperiderm, characterized by rows of tonofibrils oriented parallel to the skin surface, is formed between the periderm and intermediate layer. These peridermal layers are sloughed at hatching.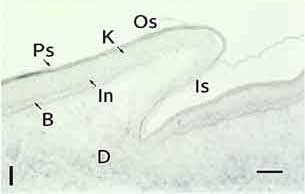 (I) 17 days (stage 43). No signal is detectable in the epidermis.

---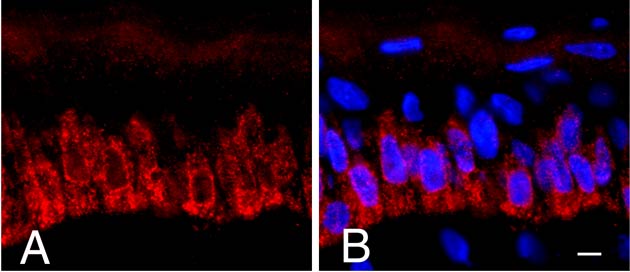 Fig. 2 HB9 protein localization in tarsometatarsal skin. Tarsometatarsal skin at 15 days (stage 41). (A) Epidermis of the outer scale face. HB9 protein is predominant in cytoplasm of the basal and intermediate cells. Speckled signal is also observed in nucleus. (B) Double exposure image. Nucleus is stained by DAPI (blue). Colocalization of Cy3 and DAPI is visualized by overlapping images (purple). This expression pattern is not changed during tarsometatarsal skin development. Bars, 10 μm.



御質問、御討論は下記アドレスへお願いいたします。
秋元義弘 



(C) Copyright 2001 Yoshihiro Akimoto et al. All rights reserved.