研究では既存の視点にこだわらず、杏林皮膚科ならではといえる再生医学、免疫学の手法を組みあわせた独創的なアプロ―チにより、疾患の病態を明らかにしつつ、さらに安全かつ有効な治療のための最適化、新規治療法の提案を行ってきました。研究のテーマとして
1) 脱毛症、発汗異常をはじめとする皮膚付属器疾患の病態解明と新規治療法の開発
2) 重症薬疹の発症因子の解明と病態・予後の解析
3) アトピー性皮膚炎など皮膚アレルギー性疾患の病態生理の解析
4) 皮膚悪性腫瘍に対する治療法の最適化
5) ヒト組織幹細胞、iPS細胞を用いた皮膚疾患モデル
の開発などがあげられます。実学を重んじ、臨床に還元可能な研究を行うことを心掛けています。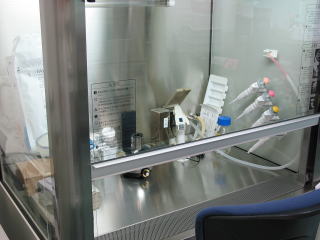 教室業績
1. Kinoshita-Ise M, Kubo A, Sasaki T, Umegaki-Arao N, Amagai M, Ohyama M: Identification of factors contributing to phenotypic divergence via quantitative image analyses of autosomal recessive woolly hair/hypotrichosis with homozygous c.736T>A LIPH mutation.Br J Dermatol. 2017 Jan; 176(1): 138-144.
2. Doi T, Mizukawa Y, Shimoda Y, Yamazaki Y, Shiohara T: Importance of Water Content of the Stratum Corneum in Mouse Models for Contact Hypersensitivity. J Invest Dermatol. 2017 Jan; 137(1): 151-158.
3. Ushigome Y, Sato Y, Shimoda Y, Yamazaki Y, Shiohara T: Localized hypohidrosis is an unrecognized sequela of herpes zoster. J Am Acad Dermatol. 2017 Jan; 76(1): 160-162.
4. Shiohara T, Ushigome Y, Kano Y, Takahashi R: Crucial Role of Viral Reactivation in the Development of Severe Drug Eruptions: a Comprehensive Review. Clin Rev Allergy Immunol. 2015 Oct; 49(2): 192-202.
5. Ohyama M, Okano H: Promise of human induced pluripotent stem cells in skin regeneration and investigation. J Invest Dermatol. 2014 Mar; 134(3): 605-9.
6. Takahashi R, Sato Y, Kurata M, Yamazaki Y, Kimishima M, Shiohara T: Pathological role of regulatory T cells in the initiation and maintenance of eczema herpeticum lesions.J Immunol. 2014 Feb 1; 192(3): 969-78.
7. Sato M, Amagai M, Ohyama M: Detailed clinicopathological characterization of progressive alopecia areata patients treated with i.v. corticosteroid pulse therapy toward optimization of inclusion criteria. J Dermatol. 2014 Nov; 41(11): 957-63.
8. Watanabe-Okada E, Amagai M, Ohyama M: Histopathological investigation of clinically non-affected perilesional scalp in alopecias detected unexpected spread of disease activities. J Dermatol. 2014 Sep; 41(9): 802-7.