Message from Chairman of the Board of Trustees
Hiroharu Matsuda M.D.,Ph.D.
Professor Emeritus and Chairman of the Board of Trustees of Kyorin University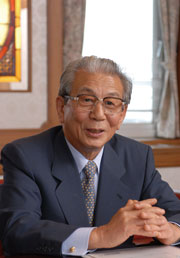 Kyorin University exists to nurture individuals of talent and merit who can contribute to every area of society through such activities as education, research, and health care, in keeping with our founding spirit, "Pursuit of Truth, Goodness, and Beauty." By individuals of talent and merit, I mean people with an international outlook, who know
how to think for themselves and communicate their ideas, then listen carefully to the opinions of others and take meaningful action.
Our hope is that the passionate and enthusiastic young people who study on our campus will come away from their experience equipped with a scientific approach to things, the basic rules and systems governing society and group behavior, and the means of mutual understanding, together with the virtues of humility, empathy, and kindness toward others.
We also hope that every one of you will make the most of the time you spend on our campus, with its superb learning environment and rich natural beauty, to develop a thirst for Truth, Goodness, and Beauty, make good friends, talk about life, and acquire a broad-minded perspective on Japan and the rest of the world, that you may look back on these precious years of your youth with fond memories and no regrets. We will do
everything in our power to support you in your efforts to cultivate yourselves and realize your full potential.
Message from President
Yutaka Atomi M.D.,Ph.D.
President of Kyorin University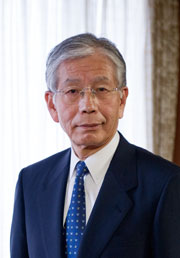 Kyorin University is a comprehensive university consisting of the Faculty of Medicine, the Faculty of Health Sciences, the Faculty of Social Sciences, and the Faculty of Foreign Studies. The name Kyorin—literally, "apricot grove"—derives from a Chinese legend regarding the great third-century physician Dong Feng, who lived near the foot of Mount Lu. According to tradition, Dong Feng never accepted money from his needy patients.
Instead, he asked each person he cured to plant an apricot sapling, and several years after, a vast grove of apricot trees sprang up. In later times, the apricot grove, or kyorin , came to stand for the selfless and conscientious practice of medicine. I believe that the spirit of the Apricot Grove is something urgently needed in today's world.
As our society struggles to cope with globalization, financial and industrial upheavals,
resources shortages and environmental crises, the social challenges of rapid progress and increasing complexity, and the growing diversity of human values, it stands on the threshold of a major transition, from the technocentric society of the twentieth-century to a society that puts humanity first. At such a time, the goal of Kyorin University is to nurture individuals who will make a meaningful contribution to humanity—people with a deep sensibility grounded in a "humanity first" orientation, together with the knowledge and skills to play an active and wide-ranging role in society.
Working for the good of humanity in the spirit of the Apricot Grove. Therein, I believe, lies the pathway to a future of endless possibilities for our students as leaders in government, industry, and academia in the twenty-first century.
Message from the Vice-President
Paul Snowden M.A.
Vice-President of Kyorin University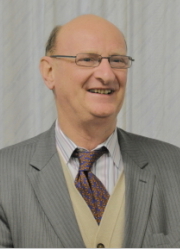 I took up this post in April, 2013 after 35 years of experience in teaching at university level in Japan. Now I am looking forward to contributing to the next few years of change at Kyorin University. A focal point for the future is that we are celebrating our fiftieth anniversary in 2016 with the completion of a major building program that has brought the students from our Hachioji campus to a new campus in Mitaka.* The new campus is located very near to our fine hospital and Medical School – and to the lively student town of Kichijoji.
Even before the move, I worked hard to introduce a greater freedom of choice among the many subjects that are offered. My aim continues to be for a more global atmosphere to the University, both inside and outside the classroom. We are negotiating with more and more overseas universities to become our international partners, so that all students will be able to study abroad, either on short courses or on longer programs. At the same time, we are introducing academic subjects taught in English and Chinese. In this way, we can both prepare our students for overseas study and attract more students from overseas for short- or long-term study.
Supported by the Ministry of Education through four highly competitive projects, and blessed with a rare balance of students of medical and non-medical subjects, Kyorin is clearly an ideal starting place for young people who wish to do good in the wide world, equipped with skills, knowledge and the confidence to communicate them. After all, Medicine deals with human beings, while the Arts and Social Sciences are often called the Humanities: at the new Kyorin, our students can discover and develop their own awareness of all aspects of Humanity.

* For those who don't know Tokyo so well, Mitaka is a suburban city in western Tokyo, with a train station that can be reached from the major hub of Shinjuku in 15 minutes or so, while Kichijoji refers to both a station (also 15 minutes or so from Shinjuku, and 20 minutes or so from the fashionable area of Shibuya) and the surrounding area of popular shops, restaurants, a spacious park, and the Ghibli anime museum. Our Hachioji campus is further out of town in the foothills of the mountains at the edge of Tokyo; it is still open for sports, camps and other university events.