International Programs
Ties With Universities Around the World
Living and studying abroad builds not only language skills but also insight into different cultures, depth of character, and the confidence to function in international society.
Because Kyorin University believes strongly in the value of living and studying abroad, we offer a wide range of opportunities for overseas study and training. By providing the experience of total immersion in a foreign language, culture, and lifestyle, these programs are designed not only to encourage a quantum leap in language proficiency but also to foster a deeper understanding of different cultures and values, develop breadth and depth of character, and build the skills and confidence to function in international society.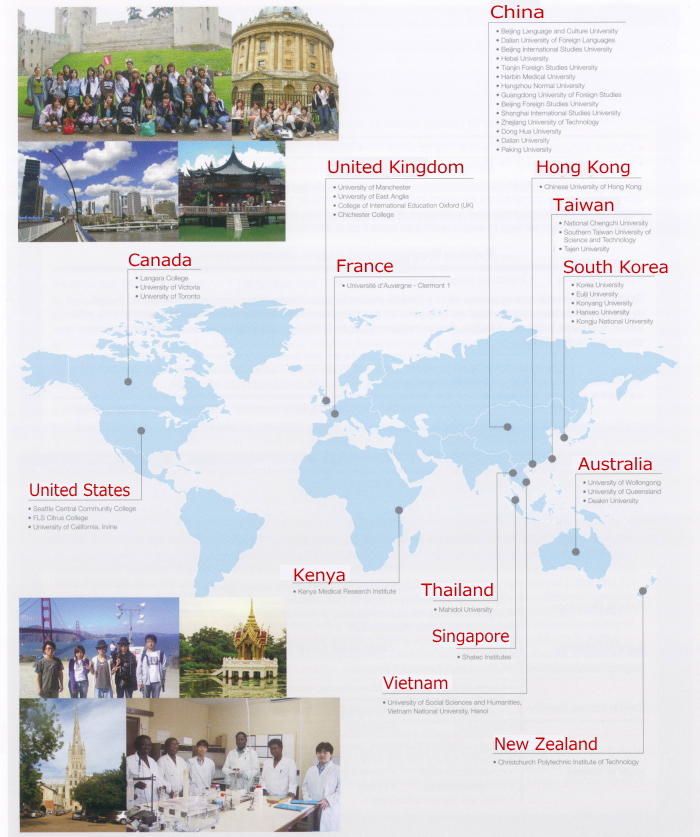 Student Exchange Agreement Partner Universities
(in alphabetical order)
Australia

China

Hong Kong

Kenya

South Korea
New Zealand

Singapore

Taiwan

Thailand

The United Kingdom

College of International Education Oxford

Vietnam

France

Canada

United States
Study Abroad
For students wishing to study abroad, Kyorin University offers five different programs so that students can select the option best matching their objectives and needs. Tuition reductions or waivers and financial aid are available in many cases. By allowing students to immerse themselves in the language, life, and culture of a foreign country, these opportunities for study at participating institutions worldwide foster a deeper understanding of racial and cultural diversity and prepare our students to play an active role in international society.
Reciprocal Exchange Program
This program offers students an opportunity to spend nine to twelve months studying at partner institutions with which Kyorin University has reciprocal student exchange agreements, including Chinese University of Hong Kong, Beijing International Studies University (China), National Chengchi University (Taiwan), Korea University (South Korea), and Christchurch Polytechnic Institute of Technology (New Zealand). Tuition for study at the host institution is waived. This program is limited to qualified applicants.
One-Way Exchange Program
Students may spend up to a year studying at Wollongong University (Australia) under our one-way student linkage agreement with that institution. This program is administered by Kyorin University in partnership with the host institution, but because it is not part of a reciprocal exchange program, costs include the host institution's tuition and fees.
Semester Abroad (Chinese)
The Semester Abroad program is designed for those enrolled in Chinese language studies in the Faculty of Foreign Studies. Students spend one semester (six months) at such participating institutions as Beijing International Studies University, Hebei University (China), and National Chengchi University (Taiwan). Host institution tuition and fees apply.
Medium-Term Study Abroad
This program provides for language study or internships of three to nine months at participating universities in Canada, New Zealand, the United Kingdom, and the United States. Host institution tuition and fees apply.
Direct-Enroll Study Abroad
Under this program, students can apply to study abroad at their own expense for a period of three months or more at an institution of their choice. Advance application and approval required.
Faculty-Based Training Abroad
The Faculties of Foreign Studies, Social Sciences, and Health Sciences each offer optional overseas training programs during the university's spring and autumn breaks. In addition to intensive language instruction, these Training Abroad programs provide real-world educational experiences tied to each faculty's curriculum, offering students a valuable opportunity to gain international experience and to test what they have learned in another culture.
Faculty of Foreign Studies
Training programs aimed at boosting language proficiency and promoting cultural interchange are offered at several institutions, including College of International Education Oxford (UK), Beijing Language and Culture University (China), and University of Queensland (Australia). Programs in Singapore, South Korea, and Taiwan offer internships at hotels and schools and experiences in the field of tourism.
Faculty of Social Sciences
The Faculty of Social Sciences offers a two-week training session at FLS Citrus College near Los Angeles (US). In addition to language training, the program features an inspection tour of a Japanese company and volunteer opportunities, providing direct immersion in local culture and offering new perspectives on internationalization and globalization.
Faculty of Health Sciences
This English-language training program at Langara College (Canada) opens up new vistas for students through classes taught by native English speakers. The program also offers unique opportunities for real-world learning in the health sciences and for comparing Japanese and Canadian health care via tours of local hospitals and other medical facilities.