Nursing School affiliated with the School of Medicine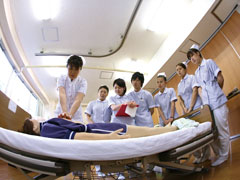 The Nursing School nurtures knowledge and specialist skills that can respond to the needs of society and fosters nurse practitioners with outstanding human qualities.
The Nursing School places the greatest importance on nurturing human resources in the fields of health, medicine and welfare on the basis of humanism. Our educational goal is to foster a flexible personality with a comprehensive understanding of people. By acquiring specialist knowledge and skills, students deepen their understanding and awareness of nursing. At the same time, they become aware of the role of nursing and learn the basic capabilities needed to display leadership. Furthermore, through nursing, they acquire the ability to contribute to the development of society as members of the community. In order to realize these objectives, through lectures, practical training, HR, events and observation, and through everyday life on campus, we nurture the rich human qualities that enable nurses to understand the suffering of the sick and take their viewpoint, fostering specialists who can make a positive contribution in the fields of health, medicine and welfare.