ABOUT GCP

What is GCP?

"I want to work in the global arena in the future…"
"It would be great if I could communicate in English at work, but I am not good at English."
In order to support students like these and provide more opportunities for them when job hunting, the Faculty of Social Sciences of Kyorin University established the Global Career Program in 2016.
The goal of GCP is not learning Native-like pronunciation or perfect grammar in English.
We consider English language acquisition important because it is one of the tools used to learn and communicate core ideas such as economics, management, international relations, and welfare.
English skills are also important for developing essential technological skills needed in a global workplace. The Faculty of Social Sciences emphasize the development of logical thinking, decision making, creativity, and presentation skills in English.
Five features of GCP
English skills are not required to be accepted to the program.
We will provide intensive English education during the first year (At least six classes, English language classes and subject area classes are taught in English in each semester.)
Business skills and specialized subjects such as economics and management will be taught in English. English is one tool to enhance learning, not an end in itself.
Students will have online one-on-one video English conversation lessons.
Students are encouraged to study abroad.
(There are scholarships available for many programs.)
LESSON

Online English conversation
a new learning style

The Oral Communication class offers many opportunities to speak with a native English speaking teacher in the classroom. As a component of the class, the Global Career Program also gives students the opportunity to have one-on-one online learning sessions provided by QQ English. The program helps students stay motivated as they see their skills improving quickly through speaking English.
Students can gain confidence through instant feedback from their personal instructors and feel satisfaction when they are able to express themselves in English. They can also know when they are not communicating clearly and avoid the regret of making mistakes without realizing that they were not understood.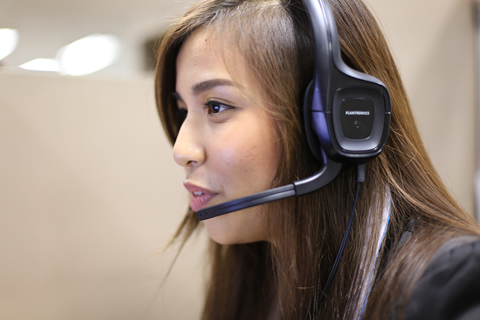 STUDY FLOW

Four Year Study Flow
Cultivating basic English skills

Small classes motivate students
One-on-one online learning
Lecturers from a variety of people currently working in the global arena

Thinking, debating, presenting and learning business skills in English

Learning to think logically and improving English presentation skills
Learning basic skills required for business

Preparing for the future - study abroad

Short term, half year, and one year study abroad programs
Preparing students to work globally

Learn social science in English

Learn academic subjects such as economics and business in English
GCP Q&A

Q&A

Is this an English language program?

The purpose of GCP is "To develop people who are active globally." English is just one of the many skills needed to become a global worker. It is not a language program. Students learn to use English as a tool for business as well as specialized language needed in economics and international work.


What English level is required to enter the program?

English ability at the time of admission is irrelevant. The first two years of the program focuses on building language skills from each student's starting level. Students will be challenged to develop thinking skills in English. Students who do not have confidence in English will be able to work on improving their own skills without comparison to other students. The program is looking for students who aspire to actively learn and are motivated to put effort into improving their skills rather than students who begin with a high level but are not willing to work on gaining more skills.


How many people will be accepted to the program?

We do not have a set limit, but in order to maintain individualized quality instruction through small groups, we may require examinations, interviews, or application letters outlining why you want to join the program.


Is it necessary to study abroad?

Studying abroad is not required to graduate or receive a GCP certificate, but it is recommended to develop the language skills needed to study subject area courses in English.


Does joining GCP make it more difficult to graduate from university?

GCP students are required to take GCP classes while being exempt from some of the classes required in the regular course so the total number of credits needed to graduate will be the same as students in the regular course.


How many GCP credits are needed to graduate?

GCP credits make up about half of the total credits required to graduate. GCP classes are part of the policy studies courses. Students who complete GCP requirements will be awarded their degree and a GCP certificate.


Are there scholarships to study abroad?

Kyorin University provides tuition reductions for students who meet certain conditions. There are also scholarships available for various international study programs.


Does participation in GCP cost more than the regular program?

During the first year, there is an additional fee of about 50,000 JPY for the one-on-one online lessons and the materials needed for these lessons. This fee will be charged separately.

Students studying abroad will also have additional fees based on where they choose to study, how long they stay, and the program they choose. As stated above, there are tuition discounts and scholarships available for some students.
CURRICULUM

Sample Four Year Curriculum
Faculty of Social Sciences Core English Requirements


(Compulsory, 8 Credits)
| Subject | Semester | Credits |
| --- | --- | --- |
| English I (Vocabulary Building for TOEIC A) | 1 | 2 |
| English II (Skills for Communication A) | 1 | 2 |
| English III (Vocabulary Building for TOEIC B) | 2 | 2 |
| English IV (Skills for Communication B) | 2 | 2 |
GCP Business Skills Subjects
(Elective, at least 4 Credits)
| Subject | Semester | Credits |
| --- | --- | --- |
| Critical Thinking | 2 | 2 |
| Global Career Development | 2 | 2 |
| Communication for Business | 3˜ | 2 |
| Japan Studies | 3˜ | 2 |
| Public Speaking in English | 3˜ | 2 |
GCP English Subjects
(Compulsory, 16 Credits)
| Subject | Semester | Credits |
| --- | --- | --- |
| Oral Communication 1 | 1 | 2 |
| Oral Communication 2 | 2 | 2 |
| Academic Writing 1 | 1 | 2 |
| Academic Writing 2 | 2 | 2 |
| Academic Writing 3 | 3 | 2 |
| Recent Topics in English | 3 | 2 |
| Business Communication 1 | 4˜ | 2 |
| Business Communication 2 | 5˜ | 2 |
Study Abroad Program
(Elective, up to 20 Credits)
| Subject | Semester | Credits |
| --- | --- | --- |
| Study Abroad in a Partner University | 4˜ |   |
GCP Introductory Subjects
(Elective, at least 4 Credits)
| Subject | Semester | Credits |
| --- | --- | --- |
| Introduction to Business | 4˜ | 2 |
| Introduction to Economics | 4˜ | 2 |
| Introduction to Global Health Issues | 4˜ | 2 |
| Introduction to International Relations | 4˜ | 2 |
GCP Specialized Subjects
(Elective, at least 4 Credits)
| Subject | Semester | Credits |
| --- | --- | --- |
| Monetary Policy and Financial System | 4˜ | 2 |
| Fiscal Policy and Tax System in Japan | 4˜ | 2 |
| Culture and Business | 4˜ | 2 |
| Global Health and Social Justice | 4˜ | 2 |
| Marketing | 4˜ | 2 |
| History of Innovation & Science | 4˜ | 2 |
| Interdisciplinary Seminar I | 4˜ | 2 |
| Interdisciplinary Seminar II | 5˜ | 2 |